If you want to play Mega Millions with the best winning odds possible then you'll want to play a Mega Millions lottery syndicate. Syndicates are group entries in which each member of the group splits the winning odds evenly but any potential winnings in accordance with the percentage of the syndicate they own.

Syndicates are quite simple, really. Say a person has two tickets to the next Mega Millions draw and that person gets together with eight other people with one ticket each to pool their tickets together and form a Mega Millions syndicate. This syndicate has nine people with ten tickets, or shares, total. Each member of the syndicate is playing with the ten tickets that belong to the syndicate. However, if the syndicate wins a prize, each member will receive 10% of the prize except for the person that brought two tickets to the syndicate, they will receive 20%. As you can see, the syndicate shares the entries and odds evenly but winnings are split according to share ownership.
Some might say that syndicates aren't worth it because so many people split the prize, therefore everyone gets less. However, Mega Millions lotto syndicates have scooped some huge jackpots and other giant prizes in the past, making everyone in the syndicate a millionaire!
Mega Millions Syndicate Winners
The Three Amigos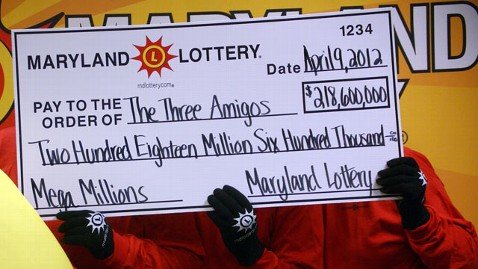 The Three Amigos Mega Millions lotto syndicate is legendary for taking part of a record breaking, at the time, $656 million Mega Millions jackpot in 2012. The Three Amigos were three employees of the Maryland public school system that decided to play Mega Millions with $60 worth of tickets, with each member contributing $20. Their decision to create a Mega Millions syndicate certainly paid off as their share of the jackpot was $218.6 million! Not bad for $60 worth of tickets!
The Awesome Eight
The Awesome Eight had an awesome $1 million Mega Millions second prize win in June 2015. The Awesome Eight was a group of eight Virginia office workers who had been playing the lottery together for about two and a half years at the time of their incredible win. In the beginning, they called themselves the 'Lucky Six' and grew to become the 'Awesome Eight.' Each member of the group took home $125,000! Certainly beats working for a living!
Seven Co-workers from New York
In March 2011, seven co-workers from Albany, New York split a $319 million jackpot. The co-workers had formed a syndicate of only one share, with each person taking a turn buying the share before each draw when the jackpot climbed above $100 million. While they didn't have the huge odds boost that syndicates are known for, apparently one line was all they needed! Each member of the syndicate collected $28,971,029.
Play Mega Millions Syndicates Online
Lottery messenger service theLotter.com makes it possible for players all over the globe to join a Mega Millions syndicate, online. TheLotter purchases official Mega Millions entries for its online players, including syndicates, meaning you are actually playing the Mega Millions lottery, not betting on it as some other sites offer. Joining an online syndicate is as easy as selecting how many lines you'd like to play and making your purchase. You'll want to check the Mega Millions results right after the draw to see how your odds boosting syndicate entry did. Playing Mega Millions syndicates online is a great option for international players residing outside of the United States, as well as those who don't want to go through the trouble of organizing their own syndicate. Join a Mega Millions syndicate today!