It's been almost six months since the last time we got to see the US Mega Million jackpot hit the $200 million mark and that gives us plenty of reasons to be thrilled! People all over the world are ready to put their hands on a Mega Millions ticket, and how about you? The good thing: Australians can play Mega Millions online! Even beter: you can purchase your Mega Millions tickets in just about any form or shape right here at us-megamillions.com! Looks like you came to the right place!
The Future Is Here
Why do most people play the lottery? There are numerous reasons, most of them probably related to improving the quality of life. The first thing we fantasize about giving up on, is our daily job. Even if we enjoy what we do, financial independence that comes with winning a huge lottery jackpot allows winners to become their own bosses, or, if they prefer, happily unemployed.
Luckily for lottery winners and other rich people out there, the future, and with it the way we perceive jobs, is about to change. A research study, published earlier this week by Bank of America Merrill Lynch, focusses on the potential impact the robot revolution has and will have on the modern workplace. As there has been more than 72% increase in industrial robots in the US alone over the last decade, this research predicts a massive change is upon us.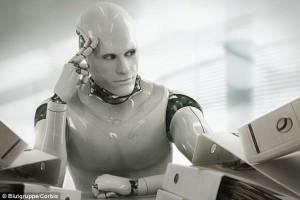 From burger-flipping robots to robot policemen; the advances made in recent years in artificial intelligence and robotics will have major effects on how jobs will carried out in the near future and by whom (or what, if you will). The study claims that "the combination of AI, machine learning, deep learning, and natural user interfaces (such as voice recognition) are making it possible to automate many knowledge worker tasks that were long regarded as impossible or impractical for machines to perform".
This "new" world will lead, according to the report, to even bigger inequalities in social structure and finance. That doesn't sound promosing at all, but what exactly does it mean? Well, basically the rich will get richer and the poor poorer. Before you get discouraged, there are two things to keep in mind, no. 1 being that we have already dealt with mechanic revolutions in the past and, despite gloomy and catastrophic predictions, humanity not only survived, but rather progressed and developed. No. 2 is a more practical point, that you can use to escape future poverty: the US Mega Millions jackpot is worth $200 million on Friday 13 November!
Last draw's winning Mega Millions numbers
If you're looking for a way to secure your future – Mega Millions has a great offer for you! $200 million are on the table, after no one was able to match the 6 winning numbers on Tuesday: 8-17-20-45-71 and Mega Ball 4. Three lucky ticket holders were able to match 5 numbers and cash-in a million dollars each. So, before the future comes any closer, come get richer with Mega Million!