The holiday season is here, but in all fairness it seems that for our favourite American lottery, US Mega Millions (duh!), it is always holiday season! With the most festive time of year approaching, the Mega Millions top prize is comfortably climbing up the jackpot ladder – slowly, but very surely! The jackpot has reached $47 million and you can get your hands on this fantastic amount this Friday! Easy does it: simply purchase a Mega Millions ticket and win a yourself a Merry Christmas for a lifetime to come!
If you want to win the lottery…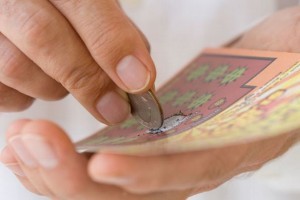 You have to buy a ticket, at least that's what they say. Putting this wise saying aside, we all know that actually winning the lottery requires a bit more than just the purchase of a ticket; in order to win BIG you need to successfully match a few numbers. The task of guessing the right set of numbers isn't so easy, which makes winning the jackpot, specifically the Mega Millions top prize, rare and very, VERY exciting.
One California resident didn't need this well meant piece of info. On November 23rd, the lucky bugger won the lottery – twice! Rodney Meadows was busy with everyday tasks when he decided to stop at a Fast Mart in Modesto, California to purchase $30 worth of scratch cards. Luckily for Meadows, one ticket proved to be a winning one and earned him $1,000!
Instead of walking away with his modest but still great sum of cash, Meadows decided to purchase three more cards. Amazingly enough, one of these three cards was a mega-jackpot winner of $10 million, which totally caught the winner off guard: "First off, I could not believe it! I had to ask the clerk at the store, and he said: 'You better check it again at the machine", said Meadows to a local TV channel.
Apparently, the lucky winner loves to play scratch cards and previously won $1,000 on two separate occasions. The current win, according to a California Lottery spokesman, has winning odds of 1 in 3,000,000. The shop where the winning ticket was purchased will be awarded $50,000, which will be used to redecorate the place. And what does Meadows plan to do with the money? He hasn't decided yet, but we're sure he'll think of something!
Results of the latest Mega Millions draw
Tuesday's numbers were 5-7-25-50-59 and Mega Ball 12. One ticket holder in California matched five numbers and banked $1 million. Tomorrow's jackpot is set to $47 million – this could be your time to start winning millions! Don't just watch others win – become a winner yourself: play Mega Million online!