Some Australians may see Americans as one group of people. Perhaps divided into Republicans and Democrats, but that's about it as far as diversity goes. However, that is not the case as US society is very complex with many regional differences. To the big guns of the East and West Coasts, for example, the Midwest may seem like just a bunch of fly-over states filled with soybean and cornfields. However, there is plenty to do and see in the American Midwest. And not only are the people known for their friendliness, they're also mega lucky. Tickets sold in the Midwest just killed it this past Mega Millions draw, landing all the top cash prizes.
The Midwest Is Best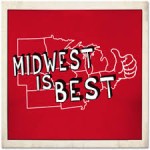 The winning numbers — 28, 32, 33, 40, 46 and Mega Ball 10 — were revealed last Friday night, and a single ticket sold in Missouri took home the $25 million (AUD$34 million) jackpot. One ticket sold in Ohio matched all five main numbers for the $1 million second prize. These states may have claim to the big winners, but with over one million winners in total, I'm sure residents of all the other participating states (and non-US residents of course!) were well-represented. Also, fun fact about the us-megamillions.com staff: one of our writers spent some time in Missouri when he was a kid and wants to give a shout-out to Ted Drewes, which according to him has the best frozen custard in the world. We'll stick to Sydney's gelato bars for the time being.
The Mega Millions jackpot now goes back to its minimum $15 million (AUD$20 million) value for the next draw, scheduled for Tuesday 4 August. $15 million may be the lowest possible Mega Millions jackpot prize, it is still more than most of us will ever get our hands on. Unless of course we lucky enough to buy one of the winning Mega Millions tickets online! Better not wait!
Am I supposed to fly over to a fly-over state just to play Mega Millions?
Absolutely not! While we recommend visiting the great city of Chicago at some point, there's no need to book a big Midwestern trip just to buy a Mega Millions ticket. Instead just sit at home and relax, because you can purchase Mega Millions tickets online from Australia and New Zealand simply, safely and securely. Good luck to you!