It's been two months since the Mega Millions jackpot was hit, but this could change on Friday! Will you pocket the $221 millions main prize? Seize the opportunity now!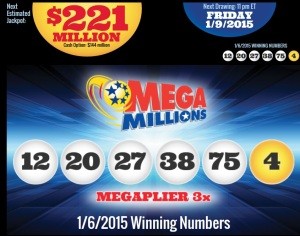 The Mega Millions is rapidly moving into record-setting territory! The current jackpot prize pool is standing at a staggering $221 million – this is only the 9th time in 5 years that it has grown so huge. On Tuesday, 6 January, no jackpot winners were declared, resulting in another jackpot rollover – to an incredible $221 million!
There was a lucky winner from Minnesota who matched the first five numbers to become an overnight millionaire, but the Mega Ball number proved elusive. Players across Australia were glued to their screens when the following numbers were called out: 12-20-27-38-75 & Mega Ball 4. Luckily, this fabulous lottery plays bi-weekly on Tuesday and Friday nights. There is still time to cash in on this whopping lottery prize drawing slated for Friday, 9 January at 11 PM ET. But don't wait too long! Push those PLAY buttons on the site and get your Mega Millions lottery tickets!
Features of the Mega Millions Jackpot Lottery
Matching all six numbers – the 5 white numbers and the yellow Mega Ball number will award you a $221 million jackpot. It's worth $144 million if you opt for the one time cash option. When you buy a ticket, you're in it to win it – there is no other way to claim the spoils of victory. Luckily, you can get your tickets right here for Friday's drawing. Five white balls are drawn from a set of numbers from 1-75, the yellow Mega Ball number is drawn from a set of numbers ranging from 1-15. Tuesday's drawing awarded payouts to over 2.4 million players, with prizes ranging from $3 all the way up to $1 million. With so much to win, there is no better reason for players down under to end up on top with the winning ticket on Friday 9th January at 11PM, ET! Happy jackpot hunting!