After sixteen rollovers, or eight weeks, with no first prize winner, the Mega Millions jackpot continues to grow and now stands at a whopping $157 million! Did you know you can play Mega Millions in many different ways? You can play with a single line or multiple line individual ticket, you can get a subscription or a multi-draw package and play in every draw for a longer period of time (and get additional benefits), you can even play together with a group of other players in a Mega Millions syndicate! You see, there are countless ways to win! Get your lucky numbers ready and play Mega Millions for the biggest jackpot in the world today!
Lottery Syndicates: the Greatest Invention Since Sliced Bread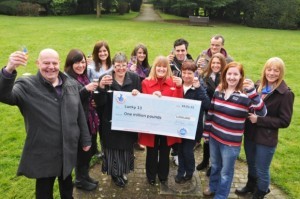 Winning the lottery requires beating some tough odds. That's why many players look for alternative ways to play the lottery, hoping to increase their chances of winning. And of course: the more chances, the more chances you take, the better your odds of winning.
Imagine having an unlimited budget for lottery tickets. The best way to secure a win is to purchase lines that cover all possible number combinations, including the winning one – right? Problem solved, you'd say. However, you'd actually need an unlimited budget for this strategy, because covering all options is a very costly affair – definitely not realistic for someone with an average income. Besides, you don't want to spend a fortune trying to win a fortune, because that just seems silly. Most of us don't have a fortune anyway (which is obviously why we play the lottery!).
So what's the solution to this predicament? Syndicates – duh! Why? Because with a lottery syndicate, you play with a whole bunch of tickets, purchased together with other players, and doing so you raise your winning potential (along with that of all other players in the group) gigantically! Let's look at a real-life example: the current 500 lines Mega Millions syndicate that will be participating in the upcoming Tuesday draw for the $157 million jackpot, is divided into 205 separate shares available for purchase. With 41 shares, 20% of the total available amount of shares, you'd be guaranteed to receive a fifth (= 20%) of the prizes won by this syndicate. In case of a jackpot win, you'd win the amazing amount of $31.4 million for buying the number of shares described. Normally, you would buy one or maybe two shares – not 20% of the total available number. But, if you really want to, you can!
Don't just take our word for it. This play type is being used all over the world and has made some folks rather rich over the years. Back in March 2012, Mega Millions offered the biggest jackpot in the world (at that time): $656 million. Three friends, a rather small syndicate, entered the draw after purchasing lottery tickets worth about $20 each. The syndicate ticket was one of three winners of that draw, earning each of the syndicate players about $73 million!
In August 2013, sixteen employees of New Jersey's Ocean County Department of Vehicle Services purchased a syndicate, which won the jackpot of $448 million in the US Powerball. After taxes, the lucky sixteen banked a little under $4 million each!
Latest Mega Millions Lottery Results
Friday's winning numbers were 21 – 26 – 33 – 48 – 73 and Megaball 14. One Ohio ticket holder managed to match the five main numbers and took home $1 million. Go on now, gather your friends and colleagues, or play anonymously – and get your Mega Millions syndicate shares today! With your significantly better odds, you could win a mindblowing $157 million with your group!