While Australia's beloved Wallabies weren't able to win the rugby world cup final against the All Blacks from New Zealand, the US Mega Millions lottery is back with a wonderful and exciting new jackpot – $144 million! So leave the 2015 World Cup results for what they are and join in the incredible joy and fun the biggest US lottery provides! You can get your online US Mega Millions tickets right here – what are you waiting for? Make that jackpot yours!
Movember is here! And so is the biggest US Mega Millions jackpot in months!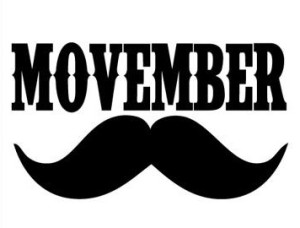 The month of November is here and with it comes the well-known charity campaign – Movember. Whether you've heard of it or not, having a lot of money (by winning the US Mega Millions jackpot, for example) comes with some social responsibility. While rich people may have their own charity they're passionate about, here's a look at one of Australia's biggest charities around – also widely accepted, embraced even, internationally.
Started in Melbourne back in 2003 and officially registered as a charity in 2006, Movember is an awesome and fun organization that combines everyone's love of mustaches with the important goal of raising awareness for men's health issues. The organization's slogan "change the face of men's health" sums up their goal, literally and figuratively.
Even surpassing the Mega Millions record jackpot of $656 million, the Movember foundation has raised over $680 million worldwide. As of 2015 the movement is active in 21 different countries, such as the US, Canada, UK, Sweden, New Zealand, Germany, France, South Africa, Singapore, Spain, Austria, Hong Kong – to name a few.
Movember is set to inspire men to grow their mustache for the month of November, in order to raise awareness to issues such as prostate cancer, testicular cancer, mental health and physical fitness. This year, women are invited to join in the fun as well, by staying physically active, every day during the month.
Latest Mega Millions Draw Results
Before you select your favourite charity and donate your money to a good cause, it would be excellent if you could first win some money! Two new millionaires were created last Friday, October 30, since they managed to match the five winning main numbers. One of the lucky two opted for the Megaplier (x5) option and banked a fantastic $5 million that way!!
As no one was able to match all six numbers (17-41-51-53-56 and Mega Ball 15), the jackpot was bumped once more to reach $144 million! Time to get your lucky numbers ready, choose a charity and come play the US Mega Millions today! Win first, then donate – that should be the order! Best of luck to you!