Jazz, Hollywood, the swivel chair — the United States is truly a land of invention and innovation. And this goes for the lottery world as well — Mega Millions has been an innovative lottery from the very beginning, with jackpots that grow as big as America's food portions. The 3 July draw is no exception as its $84 million (AUD$109 million) jackpot is currently the biggest jackpot in the world.
Party with 84 million George Washingtons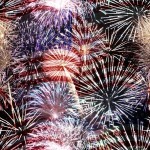 For Americans, July 4th weekend is a time for big barbecues, epic Rocky marathons on TV, and huge fireworks displays. The eternal motto for the US seems to be 'go big or go home'. Not one for ever calling it quits and going home, Mega Millions is at the top of the lottery charts again with its $84 million jackpot! One of America's most beloved lotteries, Mega Millions is known for its astounding, supersized jackpots — including the $656 million world record which was set in 2012. $84 million may seem like a universe away from that number, but it's more than enough to change anyone's life. So don't delay — Uncle Sam wants YOU to win 84 million George Washingtons this Friday!
Do I have to pledge allegiance?
A lot of people are under the assumption that only Americans can play Mega Millions. Fortunately this is NOT correct. US citizenship is not required to participate — you don't even have to like baseball and fast food. Australians and others can now buy Mega Millions overseas and online — no trips to the airport necessary!