The current Mega Millions rollover run seems to be unbreakable! For the 25th time, the jackpot rolled over in the last draw, which means that this Tuesday's Mega Millions lottery jackpot is now up to $260 million! It may be just a coincidence, but nevertheless entertaining to know that this US Mega Millions jackpot is the same as it was back in June, 2015. One year ago this month, a single ticket sold to Blue Island, Illinois residents John Williams and Neal Logue went down as the second largest prize in Illinois Lottery history to date.
Twelve Years Hard Labour Paid Off With $260M in Mega Millions Luck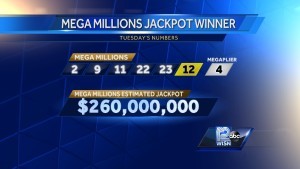 For twelve years, these two men had been buying lottery tickets together and this time their ship had finally come in after playing only $5 worth. The winning numbers were 2, 9, 11, 22, 23, with 12 as the Mega Ball. This was the only ticket among the many Mega Millions tickets purchased for that gigantic draw one year ago that matched all six winning numbers. The day after the drawing, Neal Logue called the Illinois Lottery hotline to hear the winning numbers. He was absolutely ecstatic and he and his buddy John signed the back of the ticket and steadfastly put it in a safe place. The store that sold the winning ticket, Supermercado Imelda, received an extraordinary sum of $500,000 just for selling the winning ticket.
Imagine Yourself Rollin' in the Dough!
If you feel your luck is growing, then this is definitely the time for you to get in the game! Make sure you purchase tickets for the next US Mega Millions draw, this Tuesday, June 7! You already know the jackpot is worth a grandiose $260 million. You also the know the winning numbers from last year's $260 millions Mega Millions draw. The one thing you can't be sure about, is how much Mega Millions luck your ticket is loaded with…. But if you're a bit superstitious, you may just want to try Neal and John's lucky numbers from last year. Sure, it is a bit of a long shot, but unless you have a better idea for your lucky numbers guess set, this one seems legit – no?
It's Not Just About the Jackpot
Well, that's not exactly true. It IS about winning the jackpot. That's why we play US Mega Millions, or any other lottery for that matter – isn't it? We want to hit it and we want to hit it big! But, the US Mega Millions lottery gives away a fair amount in secondary prizes – prizes that would make a grown man cry if he'd win them! There was one second place prize winner in last Friday's Mega Millions lotto drawing and the prize for matching five straight balls is, as you probably know, $1 million. Had that lucky winner played the Megaplier (which was 3), the reward would have been threefold: $3 million. Keep that in mind when you play Mega Millions! Activating the Megaplier takes the tick of a checkbox, and a little extra money! Believe us when we tell you it can be worth it!
There were also 44 third place prize winners. Thirty-eight of them matched four straight balls plus the Mega Ball to run off with $5,000 each; six of them matched four straight balls plus the Mega Ball BUT, were also smart enough to use the Megaplier to skate away with $15,000 each. So even though, like most of us, you're in it for the jackpot, don't forget there are still generous secondary prizes out there that are very much worth your while!