Nine Mega Millions draws ago one lucky ticket holder won the jackpot and made sure the Mega Millions rollover run came to and end and had to start a new rollover series from scratch. Well, from the $15 million jackpot starting point that is. Since then, we have come a long way! This Friday, the Mega Millions is ready to offer you an enormous $85 million jackpot! We could be just a draw or two away from passing the $100 million mark once more this year, but there is also the possibility that 2015 will end without a 9 digit Mega Millions jackpot in December. If you win the jackpot, we are more than willing to settle for the latter option. In any case, make sure to get your Mega Millions tickets online and play now!
December 17: celebrating 112 Years of Aviation
Lottery winnings can be used towards many things. Some people dream of renovating their home, some fantasize about a certain luxury car, and most people probably think about traveling the world, too. Ever imagined how hard it would be to travel the globe without aviation? Tell us now: how far would you get?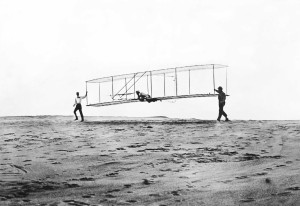 December 17, 1903 changed humanity forever, when the Wright Brothers powered and sustained the first ever human flight. The 'Wright Flyer I' was built the same year from lightweight wood, with wooden propellers and a gasoline engine, which they built in their bicycle shop.
After many repairs and redesigning, the Wright brothers each flew their aircraft twice that day, through freezing winds of 27 mph. The four flights were witnessed by five people, including a government official and a teenage boy who lived nearby. Once the flights were over, the Flyer flipped many times over, which severely damaged it and caused it to never fly again.
Thankfully, the Wright brothers continued their contribution to aviation for the rest of their lives and many others joined to create and develop airplanes as we know them today. Now, all you have to do is win a hefty Mega Millions jackpot, pack your bags and fly off to travel to the far corners of our beloved earth! Or anywhere you'd like to travel – have it your way.
Mega Millions Recent Lottery Results
Tuesday's draw yielded no jackpot winner, but one ticket holder from Illinois got $5 million richer by matching 5 numbers and opting for the Megaplier option that quintupled the original $1 million prize amopunt! For the statistics: winning numbers were 18-25-47-51-61 and Mega Ball 5. Focus is now on the next jackpot, which is too large to overlook at this point. Purchase your Mega Millions ticket now for a chance to win $85 million this Friday!