The American Thanksgiving celebration is coming up this weekend, and the US Mega Millions lotto has come up with a great way to celebrate it! This Tuesday, in the next US Mega Millions draw, an amazing $25 million jackpot is on the line, just in time for your holiday shopping. Before you decide how to spend this amazing sum of cash money, you first have to come play Mega Millions online! This holiday season will be better than ever with 'a few' extra dollars, don't you think? Of course it can – that is why you should get your US Mega Millions tickets now & start playing!
Let the jukebox play!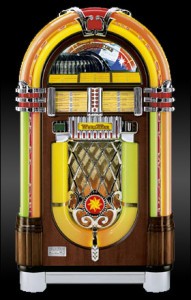 Australians spend around AUD$13.5 million per year on gadgets and about AUD$20 per week on entertainment. There are a few ways to afford a comfortable and entertaining lifestyle, and one of them is winning the Mega Millions.
But while you may be comfortably surrounded by all of your beloved electronic devices, not too long ago entertainment was consumed much differently. Remember those big, loud, colorful machines people used to push coins into just to listen to one song? Well, today marks the 126th jukebox anniversary, as the first one was reportedly presented to the public on November 23rd, 1889 in San Francisco.
These magical coin-operated machines enabled diner-goers everywhere to enjoy their favourite music by demand, uninterrupted by commercials. Users could choose from 10 different records, which would change periodically by the owner. Information regarding popular music came from song-popularity counters and owners would change the music in their jukebox according to the songs played most/least frequently.
Nowadays things work a little different. While today's musicians may not be able to match a yearly income of $656 million – the Mega Millions jackpot record, for obvious reference reasons – they sure come close. Forbes recently ranked the 25 highest-paid musicians and topping off the list is U2 with $195 million. Others on the list are A-listers such as Elton John ($100 million), Paul McCartney ($67 million), Taylor Swift ($45 million) and even our very own Aussie boogie hardrockers AC/DC ($35 million).
Mega Millions Results
So what do rockstars have to do with you? Well, if you play and win the Mega Millions you'll be well on your way to live like one! Two new millionaires from California and Iowa matched five numbers and took home $1 million each. Winning numbers 9-12-29-37-67 and Mega Ball 15 didn't grant us a winner, but that just means that the jackpot is free to grow! Come play for a chance to win $25 million this Tuesday!