The US Mega Millions Rollover Cycle is feeding a lottery frenzy. As the draw for Friday's Mega Millions $49 Million Jackpot approaches, Australians from all walks of life are flocking to us-megamillions.com to take part in America's #1 Lotto Draw.
The Mega Millions lottery results are in! Tuesday, 4 February's Mega Millions draw produced the following numbers: 11, 22, 25, 58, 69 and Mega ball 13. Nearly 1.4 million ticket holders walked away with prizes totaling nearly $4.5 million. Although the coveted jackpot was not won on this occasion, one lucky player from the Sunshine State of Florida did manage to match the five main numbers and scoop up a massive $1 million. One ticket holder who had matched four main numbers and the bonus ball won $25,000 after having opted for the excellent Megaplier option; 26 others won $5,000 as they had failed to purchase their lotto tickets with Megaplier.
US Mega Millions lottery tickets can be purchased in 43 US states, plus the District of Columbia and the U.S. Virgin Islands. Australians, Kiwis, Europeans and many other lottery fans from all over the world are increasingly participating as well. Our renowned service means you can simply order us to purchase the lots for you.
This Friday's Mega Millions jackpot offers a gargantuan $49 million – well worth the investment of a Mega Millions lottery ticket. Don't forget to activate that beautiful Megaplier feature – it can bring you so much more for a relatively small extra fee. Don't forget that you have until 10:59 am AEDT on Saturday to purchase your online lotto tickets!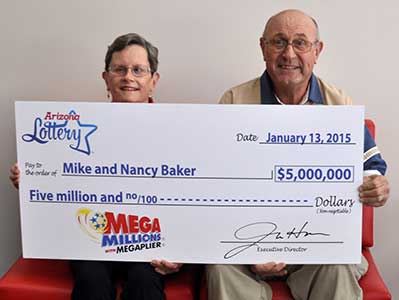 Arizona Mega Millions Winners Took Their Time
Nancy Baker and her retired school teacher husband Michael needed to let things sink in a bit at first. A few days after they realised they'd won a prize in the January 13th Mega Millions drawing, they decided to have a good chat with their financial advisor. And then they thought some more. And more.
If you suddenly win $5 million – just like that, out of the blue – you are entitled to take that breather. As Mike said: "this is a life-changer". Now they need to think some more before starting to spend their prize – the largest Mega Millions win in Arizona history. Discuss things with the family first. We wish Mike and Nancy all the best.
How much time would it take for you to recover after winning $5 million?