The US dollar is the strongest it's been in years, so now is the time to get your hands on a lot of those pretty green George Washingtons. With Mega Millions, 51 million George Washingtons could be in your investment portfolio this Friday! With yet another draw ending in a rollover, the Mega Millions jackpot is now up to an incredible $51 million (AUD$66.8 million).
Mega Millions Megaplier Mega Winner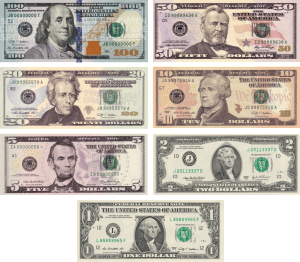 The 17 March St. Patrick's Day Mega Millions draw might have ended with no jackpot winners, but that doesn't mean that it ended millionaire-less. One ticket holder in Oklahoma matched all five main numbers which would have yielded a prize of $1 million, but this OK ticket holder went one step beyond and added a Megaplier to their ticket. As loyal readers of us-megamillions.com will know, when you're offered a Megaplier, always take it and here's why: the Megaplier was the maximum 5x for all secondary prizes this draw, meaning that they went home with $5 million (AUD$6.5 million) instead of $1 million, making history along the way as the winner of Oklahoma's largest Mega Millions prize. What an OK decision made by this OK resident!
On the Road to Nine Digits
The Mega Millions jackpot is now a eye-popping $51 million (AUD$66.8 million). We're now less than halfway to hitting the beautiful sum of $100,000,000. Will Mega Millions roll over enough to make it or will a new winner will be crowned this Friday, 20 March? With US dollar this strong, whether a winner takes home $51 million or $100 million, that's a lot of traveling money! Be sure to play Mega Millions online and the USD could come your way!