Another Rollover in Friday's Mega Millions Draw – US Super Jackpot Rises to a Whopping $25 Million!
Play US Mega Millions from Australia now and don't miss out on your chance to win a massive US lottery jackpot this January! The draw on Friday, January 23rd, was only the second after the $270 million jackpot was won by a Sucker on January 16th! Wait, we're not insulting anyone, people from the US State of Illinois, including the as of yet anonymous jackpot winner, are actually nicknamed suckers (among other nicknames)! Anyway, you can find the winning Mega Millions lottery numbers for the January 23rd draw in our US Mega Millions winning numbers section of the site.
With the unimaginably large jackpots on offer in the US Mega Millions lottery, it is easy to skip over secondary lottery prizes, even though these can still be very much worth your while. On January 13th, one group of gob-smacked friends from the state of Michigan, the self-styled Lucky 13 Lotto Club, won a once-in-a-lifetime prize of $1,000,000 as consolation for not having matched the Mega Ball on top of the correct main numbers. Nevertheless, it does seem that the number 13 was quite the lucky number for these 13 Americans on January 13th.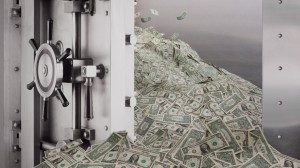 More and more Australians are playing this American super lottery through us-megamillions.com, so in our humble opinion, it's only a matter of time before the US Mega Millions jackpot gets a one-way ticket Down Under. Take part in the Mega Millions action this Tuesday (the draw takes place at 2:00 pm AEDT on Wednesday) and make sure to boost your future winnings by selecting the Megaplier option (x2 to x5). You have until 10:59 am AEDT on Wednesday to purchase your entries!
TIP: follow in the footsteps of the lucky champs from Michigan and improve your odds by playing along in a Mega Millions syndicate play! Stop being a battler: play the US Mega Millions lottery from the comfort of your sofa and 'crack Fort Knox'.
All of us here at us-megamillions.com wish you a great Australia Day!