You Are Just a Ticket Away From Winning the $206 Million Mega Millions Jackpot Draw!
The US Mega Millions jackpot has broken the $200 million barrier, and now stands at a staggering $206 million! Players across 'Oz' can cash in on this fantastic lottery game by purchasing a ticket to the US Mega Millions today. Few could believe it, but the drawing on Friday 2nd January 2015 failed to yield a jackpot winner. That's great news for all lottery fans out there – since the rollover now means that you can collect a life-changing sum of $206 million if you hit the jackpot prize, or opt for a cash option of $131 million. It's rare for the jackpot to rise above $200 million, so when it does it definitely is time to play – chances are high for this jackpot to find its winner in the next drawing. Come Tuesday, January 6th 2015 at 11PM ET, players will be itching to see what lucky numbers will be revealed.
Friday 2nd January 2015 Drawing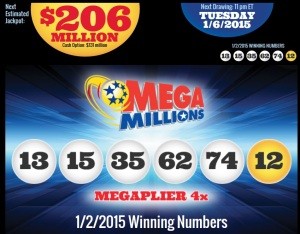 The last drawing on Friday, January 2nd 2015, yielded the following winning numbers: 13-15-35-62-74 and Mega Ball number 12. There was a x4 Megaplier in the draw which was great news for secondary prize winners. Five balls are selected from a pool of number between 1 and 75, while the Mega Ball is drawn from a set of numbers between 1 and 15. To win the Mega Millions lottery, you need to match all six numbers. But, there are incredible prizes for players that only match several of the winning numbers too. For example, in Friday's drawing there were two winners matching all 5 white balls with a prize payout of $4 million. Thanks to the x4 Megaplier, the standard $1 million payday was boosted by a multiple of 4. Plus there were 36 x $5,000 winners with 5 Megaplier winners with a Megaplier prize amount of $20,000 apiece. It pays to go big with the Mega Millions as players already know. This fantastic lottery game is reeling in the crowds as Australians continue to celebrate the New Year and all the riches it's bound to bring in!