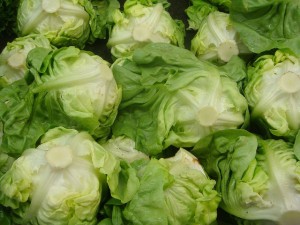 The US Mega Millions jackpot keeps rolling over, which means the next draw could make a lucky winner $88 million (AUD$113 million) richer. That certainly is a big number, but it's still just a number. What does $88 million actually mean? Let's breathe some life into the jackpot amount by discovering what a Sydneysider could buy on average at a supermarket and beyond with their windfall. Before we start: do you have any idea how many heads of lettuce you could buy for the current jackpot amount? Or how many times you can go see a movie in one of Sydney's many cinemas? Read on and we'll give you the answers!
$88 Million Grocery List
10.5 million liters of market-bought domestic beer (.5L bottle)
5.9 million liters of market-bought imported beer (.33L bottle)
7.5 million bottles of mid-range wine
5.6 million packs of Marlboro cigarettes
39.9 million liters of water (1.5L bottle)
81.5 million liters of milk
38.5 million loaves of white bread (500g)
26.8 million dozen eggs
10.8 million kilograms of local cheese
31.7 million kilograms of white rice
10.7 million kilograms of chicken breasts
28.2 million kilograms of apples
39.2 million kilograms of oranges
25.7 million kilograms of tomatoes
36.8 million kilograms of potatoes
56 million heads of lettuce
Man Cannot Live on Bread Alone
756 thousand local Sydney transport month-passes
50 thousand months of rent (one-bedroom apartment, city centre)
5.8 million cinema tickets
1 million pairs of Levi's jeans
824 thousand pairs of Nike shoes
How Big of an Apartment Could I Buy in Sydney's City Centre?
What Would You Do With $88 Million?
Wow, it's so much fun dreaming of all the things you could buy if you won the US Mega Millions jackpot! And yet, a ticket is out there waiting to change a lucky someone's life! The next draw is Tuesday, 17 February. Join in on the fun and buy a Mega Millions lottery ticket today! Who knows – 56 million heads of lettuce could soon be in your shopping cart!