We've been waiting for it and it finally happened again – the US Mega Millions has reached a thrilling $105 million jackpot! Yesterday marked "Back to the Future" Day, and although we have no idea what the future holds, we do know of a way to change it! So come play US Mega Million online for a chance to change your future!
Back to the Future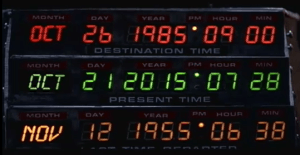 The year 1989 gave birth to one of the world's most iconic films – "Back to the Future II", which followed the journey of Marty McFly and his quirky doctor-friend 'Doc' to the future – October 21st, 2015.
While a $105 million jackpot win with the US Mega Millions can allow you to buy all of the new and exciting gadgets of the future (including a DeLorean or two), we at us-megamillions.com wanted to see how the movie's version of the "future" compared to our reality. So here's a quick view of the similarities and differences.
Transportation. Unlike the movie, and while a lot of progress has been made, we still don't quite have flying cars. While some experts say that it's a matter of another decade or so, the movie's reality doesn't match when it comes to flying cars. But flying cars aren't the only flying objects in the film – we also don't have efficient Hover Boards…
Video games. In the movie, Marty enters a strange diner and spots two kids facing an arcade machine, of whom he decides to teach how to play. The kids' reaction is of disappointment, because their hands are required for the game. So while our graphics have improved immensely since the late 80's, we still don't have hand-free video games to offer the public, although some applications already work based on brain waves alone.
Smart homes. In the movie, Marty and his girlfriend enter the house with a fingerprint sensor door, which has no handle. Happily for us, we have much more advanced technologies to open doors, and the term "smart house" these days refers to more than just some sensors. Smart homes today are managed through touch pads, voice control, smartphone applications and more, and control and operate almost every function of the house.
Latest Mega Millions Draw Results
Tuesday's draw pulled out winning numbers 6, 25, 35, 38, 52, Mega Ball 4 and Megaplier x4, with no first or second prize winners. And while Tuesday's draw is in the past, we also have to live with the strange fact that starting today, all 3 "Back to the Future" movies take place in the past as well. But don't worry – there's still time to join in and possibly change your future! Play Mega Millions today!