We admit it, it took us a while to pick ourselves up after the US Powerball lotto destroyed our world jackpot record and took away the title we were the proud carriers of: the world's biggest lottery. The US Mega Millions lottery held the record for almost four years straight and during that time, we came closest to breaking it ourselves. But then, January 2016 came…
Right, enough of this self pity now! Mega Millions had its own fantastic jackpot in January, with a NYC resident taking home a $165 million jackpot prize! And the current jackpot is almost halfway down the road to another 9-digit jackpot, offering $48 million in tonight's Mega Millions draw! We highly recommend you to get your Mega Millions tickets now and play for this fantastic jackpot!
Wet Eyeballs vs Mega Millions Lottery Balls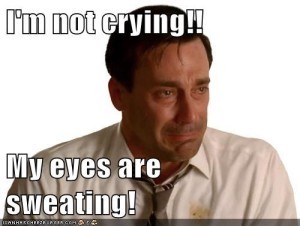 It is time to look ahead! Not just for all of us here at us-megamillions.com, but also for the many fans of the US Mega Millions lottery. Because there are many jackpot to be won still! Not all of those will reach dazzling heights, but that wasn't the case in the past either. Basically, not much has changed, apart from the fact that Mega Millions is now runner up when it comes to the biggest lottery jackpots in history. Ah well, worse things could have happened. Finally, there lies a new challenge ahead of us – two even! It is Mega Millions turn to cross the $1 billion mark. And when that happens, we'll automatically move to the second challenge of claiming back the world jackpot record! See, we found the spirit already!
Recent results in the Mega Millions lottery
We missed a couple of draws, so we won't bore you with a recap of what exactly happened in those draws. We'll suffice by pointing you to the place on the site where you can view the results of the ten most recent Mega Millions draws. If you're looking for winning Mega Millions numbers, jackpot sizes and Megaplier numbers, visit the Mega Millions Winning Numbers section.