Mega Millions is continuing its rise and now stands at $64 million for this upcoming draw on Friday, 24 February. Reasons to play are endless – don't let this jackpot be taken by someone else! This Friday the jackpot is yours for the taking! Play Mega Millions now!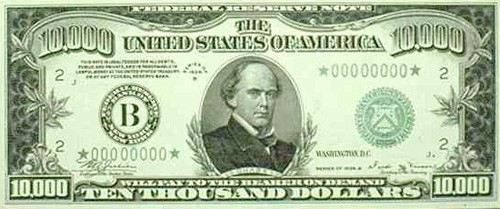 A Cash Prize
Being a jackpot winner is a life-changing experience; maybe not every one of your problems will disappear, but at the very least it does involve some fun and exciting choices to make. The first decision to make is how to collect the money. Annuity means you get to keep the entire win amount, however you'll receive it in annual payments. The lump sum option allows you to cash the prize all at once, however, out of a $64 million jackpot, you'll only see $38 million. And while that amount is significantly lower, it's still an awesome win!
Now imagine you were paid your winnings in cash!. Nowadays, the highest American note is $100, but not too long ago things were different. Back when the Civil War began, a $5000 note was issued, featuring James Madison. In 1969 the bill was discontinued by President Nixon in an attempt to reduce money-related crimes.
Under the Franklin D. Roosevelt presidency, a $10,000 bill was introduced in 1934. Back then, the average net worth of Americans was much lower than that, which made it quite unusable. This bill was also discontinued during President Nixon's time, in 1969.
The largest American bill ever printed was that of $100,000. The bill was created as a gold certificate during the Great Depression in 1934, featuring Woodrow Wilson. Although the bill was solely used for official transactions between Federal Reserve banks, it's still considered the largest American bill to ever be created.
Mega Millions Results
Tuesday's draw pulled out winning numbers 9-21-30-32-75 and Megaball 9. One lucky ticket holder from Texas matched 5 numbers and won $1 million! With a megaplier of 5, that could have been a $5 million win!
So whether you prefer your win in small or large bills, you first have to play. So get those lucky numbers ready, fill out a form and win the Mega Millions this week! Play now!