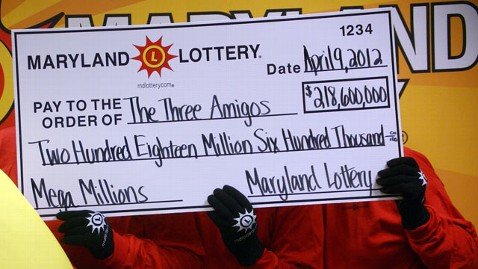 Mega Millions attracts lottery players from all over the world who are looking to play one of the biggest and most exciting jackpots on the planet. With so many players buying tickets for the Mega Millions, there is also every style of lottery play imaginable. Syndicates are one of the most popular ways to play Mega Millions. Groups of friends, co-workers, family members, whoever, band together and purchase shares of a syndicate to play Mega Millions. Not only do Mega Millions Syndicates boost the odds of winning, but they also occasionally win big!
'Three Amigos' Mega Millions Syndicate Won a Record Jackpot!
In March 2012, the Mega Millions jackpot reached a record-breaking $656 million, and lottery fever gripped the world. Three colleagues from the state of Maryland's public education system pooled together $20 each and bought 60 lottery tickets for the historic Mega Millions draw. With that, the 'Three Amigos' syndicate was born! When the dust settled after the draw, the syndicate was $218.6 million richer! The Three Amigos won one-third of the incredible jackpot, splitting it with two other winning tickets.
To date, we still do not know who the Three Amigos are. They chose to remain anonymous. Maryland law allows this option, perhaps to avoid the attention that a huge lottery win will inevitably bring. We do know that there were two women and one man in the group. The women were in their 20's and 50's, while the man was in his 40's at the time. They were all from Milford Mill, Maryland. The youngest syndicate member is the one who purchased the 60 tickets. When the draw took place, she spread them all on the floor and checked each individually to see if one matched. Of course, one matched the winning numbers of 2, 4, 23, 38, 46 and Mega Ball 23.
Once the woman discovered that one of the tickets was a jackpot winner, she immediately called the other syndicate members to tell them the incredible news. The members signed the winning ticket and put it in a safe until they could collect their prize.
The Three Amigos opted for the lump sum cash amount of $158 million for their share of the jackpot. Each member of the syndicate took home $35 million after taxes. Plans for the winnings ranged from a European backpacking trip to college tuition to buying a house for a family member.
Playing Mega Millions as part of a syndicate is a fun way to play that boosts winning odds and can potentially land you a huge jackpot. No matter how you choose to play Mega Millions, the most important thing is to play.
Get your Mega Millions tickets online before the next draw!