New millionaires are created in nearly every Mega Millions draw, even if no player manages to win the Mega Millions jackpot. The last time someone won the jackpot was on April 28, 2017. That was when one very lucky player from California scooped up a $61 million prize. Since then, a number of players have won the second tier prize of $1 million.
It's time to buy your tickets now for the next Mega Millions draw with its guaranteed $123 million jackpot. But even if your numbers don't exactly match those chosen in the draw you could still become a millionaire! Winning $1 million is a very great payoff for playing the lottery.
Meet some of those who became instant millionaires by playing Mega Millions:
** Barry J. Griffing from Dallas, won a second-tier Mega Millions prize worth $1 million in the lottery's drawing on May 23rd. "My heart is still pounding and my head is racing," he said, after being presented with his prize.
** Tomas Aguilar from Massachusetts is $1 million richer after he matched five numbers in the Mega Millions draw on May 19th.
** Rose Ditano from Virginia also won $1 million in the May 19th draw. "I'm not the type who goes nuts," she said, when asked what she would do with her prize money.
** Hayward Phillips from Virginia won $1 million in the May 9th draw by purchasing his Mega Millions ticket with an online subscription.
** Reginald Davis, also from Virginia, won $1 million in the Mega Millions draw on May 2nd.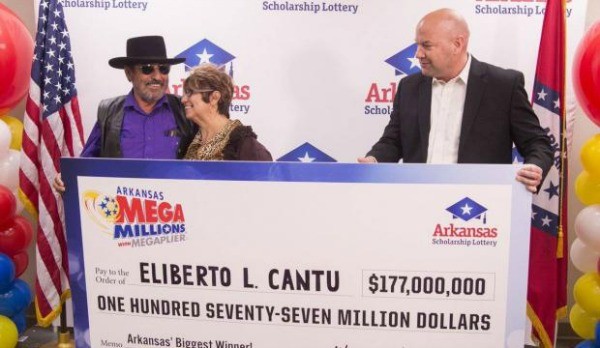 New Millionaires – the Big Winners
Of course, when you play the Mega Millions lottery your goal is to win the big jackpot prize. This year, the jackpot has fallen three times, and each time there was just a single winner.
All we know about the latest Mega Millions jackpot winner is that the ticket holder is a player from California. We are waiting with bated breath to learn the identity of this lucky player who won $61 million.
Texas construction worker Eliberto Cantu was the sole winner of the $177 million jackpot in the Mega Millions draw on March 31st. Cantu actually bought his winning ticket across the state line in Arkansas. At the press conference he was presented with a ceremonial, over-sized check. Cantu said that he felt blessed. He also promised to keep buying lottery tickets.
In the Mega Millions draw on January 27th, Frank Freney from California was the sole winner of a humongous $191 million jackpot. "This will allow me to correct all the wrong that I have incurred in my lifetime," he said when he came forward to claim his prize.
To sum it up, Mega Millions has created many new millionaires this year and you could be next! Purchase your Mega Millions tickets now!