Have you ever been tempted do do 'something stupid' to get your hands on a winning lottery ticket? To some extent, this potential temptation is easy to understand. For example, who wouldn't be at least a little jealous of their neighbour who just won a $250 million jackpot while you're struggling to make ends meet on a daily basis? Of course, being jealous is not the same as doing something stupid. But one can lead to the other. Then again, what exactly is 'doing something stupid'? Is asking for money stupid? To some of us, it probably is. What about trying to steal money? Hmmm, ok that is pretty stupid? What if you kidnap your neighbour's wife and ask for a ransom? Most definitely very stupid! Playing the lottery is supposed to be a fun, exciting experience. It can be annoying, frustrating even, but you forget about those experiences the minute you win a prize – no matter the size. No lottery ticket or lottery prize is worth getting in trouble with the law over! That being said: go buy your very own lottery tickets NOW and play for the fabulous $72 million Mega Million jackpot – TONIGHT!
Lottery ticket quarrel leads to axe murder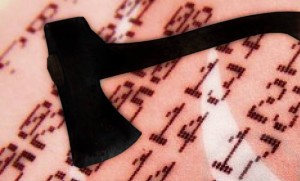 Really? Really. Someone actually murdered another person over a lottery ticket, with an axe for crying out loud! This low point in lottery history recently happened in Florida, after what has been called an 'altercation between two friends over lottery scratch cards and money'. Things apparently got so heated that one of them took an axe and hit the other guy with it, twice. The
perpetrator is jailed in Florida, without bail. This is a sad example of what can happen when people completely lose it in an argument over a lottery ticket. Sure, theoretically it could have also happened over a box of cereal – fights can get heated over just about anything. In this case, however, it was a lottery ticket that led to murder. And we feel it is our moral duty to tell our fellow lottery loving fans and followers that the lottery, while important, is first and foremost about having fun, a way to spice up every day just a little bit, and any win has to be considered a bonus. And: axes have no place in the lottery world! Let's all make sure to keep our US Mega Millions lottery drama-free! Wouldn't you agree that a $72 million jackpot is exciting enough? Live and let live – and play Mega Millions for guaranteed fun and excitement!
Mega Millions jackpot jumps by $7 million after latest draw
The latest Mega Millions rollover cycle counts nine draws without a jackpot winner so far, bringing the jackpot up to $72 million after the last rollover, on Friday 8 April. A slightly disappointing rollover amount at this point, but we only write that because we are a spoiled bunch of lottery adepts. If you are curious about the latest winning numbers, check the winning numbers section in which you can find the results of the ten latest draws.
You have a couple more hours to get your tickets for the next Mega Millions draw, so better get to it straight away! Don't forget to activate the Megaplier that can multiply your secondary prize by a factor 2 to 5! As always, we wish you lots of luck! Be safe and enjoy yourself!