With the new and improved Mega Millions lottery offering a guaranteed $40 million jackpot, more and more players are flocking to Mega Millions. Of course they are! With a starting jackpot that big, who wouldn't want to win? Take a look at the prize table and you'll see that Mega Millions offers plenty of great secondary prizes. Look a little closer at the rules and you'll see that the Mega Millions Megaplier multiplies secondary prizes by 2-5 times, including the $1 million 2nd prize! Which is why it's always a good idea to play the Mega Millions Megaplier to multiply your prize.
What is the Megaplier?
Here's a quick refresher: check the Megaplier option on your Mega Millions entry to multiply all secondary prizes by 2-5 times. This will add $1 to the cost of your ticket, but it could pay off big if you win an additional $4 million with your Mega Millions 2nd prize. The Megaplier will be randomly drawn with the other numbers in the draw to determine what the prize multiplier will be.
How to Turn $1 Million Into $5 Million – Play the Megaplier!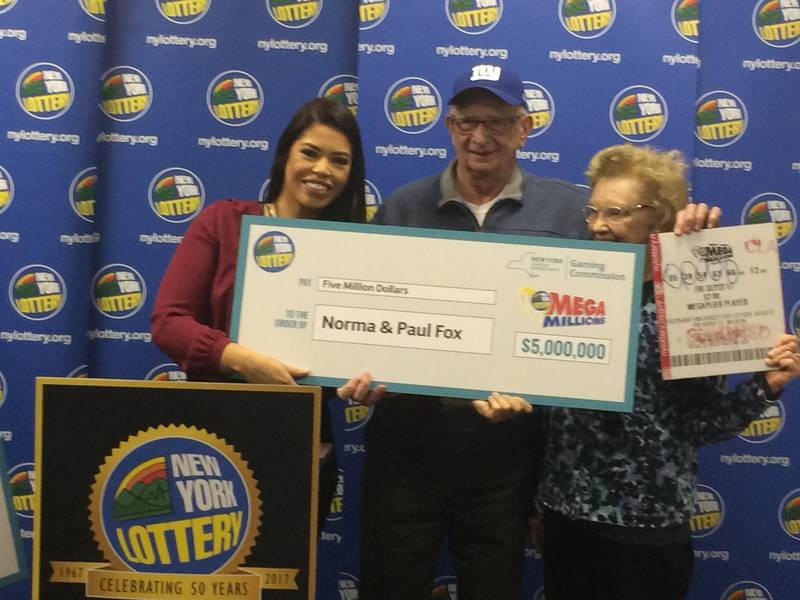 On September 22, 2017, Paul and Norma Fox of Cortlandt, New York guessed all five main numbers 5, 39, 54, 63, 66 in the Mega Millions draw to win the 2nd prize! Luckily, they played the Megaplier and turned the $1 million 2nd prize into an incredible $5 million! Paul recounts checking the results and realizing they had won:
"I checked online and saw that we matched five numbers. I called for Norma and told her we won $1,000,000. She was shocked," then Paul double-checked the ticket. "I forgot I played the Megaplier. I was speechless when I realized."
For an extra $1 spent on the Mega Millions ticket, Paul and Norma Fox won an additional $4 million! Seems like a good decision to us!
Great Secondary Prizes With the Megaplier Makes for a Winning Combination!
The Mega Millions jackpot rightfully gets a lot of attention – it's the star of the show. Since the jackpot starts at $40 million, this is only natural. However, as you can see, Mega Millions has incredible secondary prizes that, when multiplied, can add up to serious money! No matter what the jackpot is doing, there's always a chance to win big with Mega Millions secondary prizes! Play Mega Millions online today for your chance to win big!