Another week, another great opportunity to play and win the always incredible US Mega Millions lottery jackpot! We've recently seen this exact prize amount being scooped up, as in June 2014 a Michigan ticket holder won a Mega Millions jackpot of the same size. What will happen this week? You know this prize could be yours! Play Mega Millions online in the next draw on Friday 11 December and make it happen!
A Toast to Happy Endings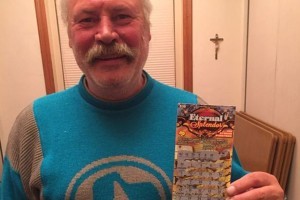 2015 is coming to an end and we at us-megamillions.com believe that it's important to end things on a high. For this reason, we've compiled a few happy ending stories about lucky lottery winners. Our first story is set in Aspen, Colorado, where a homeless man won the top prize in a scratch card lottery.
The winner, Michael Engfors, 61, became homeless about five years ago, after not being able to find work as a carpenter in the well-known town, known to be the skiing capitol of the US and also the most expensive place in the US to buy real estate. Recently, while working odd jobs he managed to find, Engfors decided to spend $10 towards a scratch card that amazingly won $500,000.
The winning card was the last of a set of three cards awarded with this prize amount, according to the lottery spokesperson, with winning odds of 1 in 840,000. The homeless shelter manager, who helped Engfors deposit the money, said that at the time of the deposit there was less than a dollar in his account.
Our second lucky winner proved the saying "third time's the charm" wrong: a 28-year old Michigan ticket holder decided to play Michigan Lottery's Pure Gold online instant game for the first time and won $200,000. The winner told the lottery officials that he plans on paying debts and enjoying life with his wife.
Finally, we want to tell you about an Illinois couple, 74 and 73 years old, that finally got lucky and managed to win $400,000 after playing the state lottery for more than 30 (!) years. The couple, that supports their family of seven including four adopted children, is looking forward to start a new life in sunny Florida.
Mega Millions Latest Winning Numbers
A Michigan ticket holder matched five of the six winning numbers – 7, 17, 37, 49, 73 and Mega Ball 15 – and became a fresh millionaire! It's not too late to end the year with a win yourself! Play Mega Millions online for a chance at winning $66 million this Friday!