They say that the spiritual meaning of 3-3-3 is a sum of your three parts: your mind, your body, and your spirit. Seeing any repeating number is a sign that there is a current issue in your life and the numbers are a sign to get you to pay attention. It is a person's subconscious trying to make them aware of something consciously. Well, if this Tuesday's US MegaMillions isn't a call to action for you then I don't know what is. The jackpot has skyrocketed to $333 million and it's ready to burst. The jackpot hasn't been hit since November, 2014 and it's been steadily growing ever since. It's time to play US Mega Millions! You can play the US Mega Millions online right here.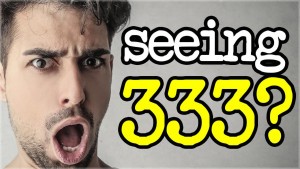 Telling It Like It Is
Many people do not believe in superstition or numerology for that matter, however. Most people like to hear the truth as it is. With getting down to earth there's no disputing the fact that the US MegaMillions has grown to a rather large jackpot. This is usually when the lotto frenzy kicks in and everyone wants to get out there and buy a ticket to take a chance at winning a large fortune. So, there's no time like the present to get your ducks in a row and purchase tickets for this historic jackpot. Of course, picking the numbers can sometimes present a problem for some people.
How to Pick the Numbers
If you do believe in the power of numbers then you probably have lucky numbers based on such dates as your birthday, your child's birthday, or a special anniversary. Some people conjure up these lucky numbers through "science", like numerology and horoscopes. Regardless of where they come from you have to consider how reliable they are. After all, they're just numbers. Or are they?
A very common method of choosing lottery ticket numbers is through the Quick Pick feature where the lottery machine picks them for you. The truth of the matter is that statistically, the odds are the same with Quick Picks as they are with any combination of numbers you pick. So it doesn't matter if you choose lucky numbers or let the machine choose them for you.
Richard Lustig, a seven-time lottery winner, highly advises against Quick Picks because he claims that picking your own numbers keeps you from getting combinations of recent winners thereby increasing your chances at hitting the jackpot.
Although players opting for Quick Picks are less likely to share a prize, it's worth mentioning that Quick Picks are not unique and it is quite possible for the same batch of numbers to be chosen for other players. In August, 2013 Paul White won his share of $448 million Powerball jackpot with a Quick Pick ticket. The jackpot was shared with two others, one of whom also won using the Quick Pick method.
Play US Mega Millions – All Good Things Come in Threes
Basically, you have a huge MegaMillions jackpot at $333 million. You need to pick numbers. You must decide whether to pick them yourself or have the lotto machine pick them for you. You have to decide if you believe in the power of numbers, or decide if everything is just pure luck. One things is for sure and that is the fact that all good things come in threes – $333 million to be exact!