Everyone wants to win the jackpot and there's no shortage of reasons why. Winning millions of dollars would change anyone's life, hopefully for the better. However, as lottery players we should not get caught up in the frenzy of the jackpot entirely. A study conducted in the last part of 2014 found that more than $2 billion in lottery prizes went unclaimed in 2013 in the US alone. One of the main reasons for this was that people were unaware that there even were any prizes other than the jackpot. This can be a costly mistake, especially in a powerhouse lottery like Mega Millions.
No Jackpot? No Problem!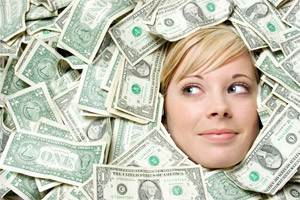 Mega Millions has nine prize divisions — obviously the jackpot is only one of them, so that means there are eight other prizes you can win. If you match only the Mega Ball, your ticket is worth $1. Nearly 1.4 million tickets matched the Mega Ball for this prize in the latest draw. Matching one main number and the Mega Ball gets you $2 with over half a million tickets matching this tier usually. Either matching two main numbers and the Mega Ball or three main numbers will net you $5 — about 100,000 total tickets get the $5 tier. If you get a ticket that matches three main numbers and the Mega Ball, you'll receive $50 back. By buying a ticket with the Megaplier, you can win up to $250 if it's a 5x draw. Ok, so it may not buy a luxury car but every dollar counts, right?
Now onto the higher prize divisions. If you match four main numbers, you've earned $500. Matching the Mega Ball along with those four numbers is worth $5000. Now we just have one secondary prize division left. If you match all five main numbers, then get yourself a mirror and take a good long look at the new millionaire staring back. Last draw, two ticket holders matched all five main numbers for $1 million each. If they had added the Megaplier, they would have $5 million instead.
The Takeaway? Don't Throw Away!
When you purchase a lottery ticket, you should always dream about winning big. This week's Mega Millions jackpot is especially dreamy with $173 million (AUD$215.2 million) at stake. But if you see that you haven't matched all five main numbers and the Mega Ball, take a breath, don't rip up your ticket in anger or throw it in the rubbish bin — you may still have money in your hands! Better yet, you can buy your Mega Millions tickets online through a reputable lottery company and the tickets' numbers will be checked for you so you'll never miss a win!