The Running of the Bulls started yesterday in Pamplona, Spain. The first run only lasted two minutes and 23 seconds, but already the goring has begun. Three men (two Americans and one Brit) were gored and ten others were hospitalised after sustaining other injuries. None of the injuries, including the goring, have been deemed life-threatening so far. Some people are into the thrill of the run, but it definitely isn't most people's idea of fun. Our advice at us-megamillions.com is to stay away from the bulls and keep your eyes on the prize. A giant prize that is — after another tremendous draw, Mega Millions has rolled over to $106 million (AUD$148 million)!
Chase Dreams Not Bulls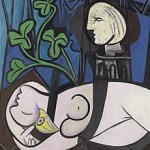 Instead of flying over to Spain for the chance to wreak bodily harm on yourself, why don't you stay at home, relax and go for the $106 million Mega Millions jackpot? A lottery ticket won't gore you or chase you down an ancient town square. And if you win big, you can visit Spain in style. Drink the most expensive Spanish wine, buy a holiday house in Majorca, and stay in a five-star castle hotel — a paradores — in León or Granada. If masterpieces are more your style, you could go all-in and try to buy Pablo Picasso's "Nude, Green Leaves and Bust" — sold in 2010 for $106.5 million. Though Tate Modern probably wouldn't oblige your request, so perhaps it's best to stick with the holiday house. It may be a far-fetched dream, but hey, someone has to win the jackpot eventually. The only way to guarantee 100% that it won't be you is by not playing. And not being in the US is no excuse! You can play global lotteries online with the click of a button, no green card necessary.
Good luck! Buena suerte! And seriously, stay away from those bulls!