What could you win this week if you play the lottery? You could win the seventh largest Mega Millions jackpot ever! At $346 million, Mega Millions offers the biggest lottery prize in the world, surpassing the top prize at rival multi-state lottery Powerball, where the jackpot is currently $307 million. If you purchase your Mega Millions tickets now, you have a chance to win this incredible prize in the next draw.
The ten biggest Mega Millions jackpots of all time were all over $300 million. The current jackpot moved into 7th place in the standings in the most recent draw, when no tickets successfully matched the five main numbers and the additional Mega Ball number. The jackpot will need to roll over and grow to over $380 million in order for it to move into sixth place in the all-time standings.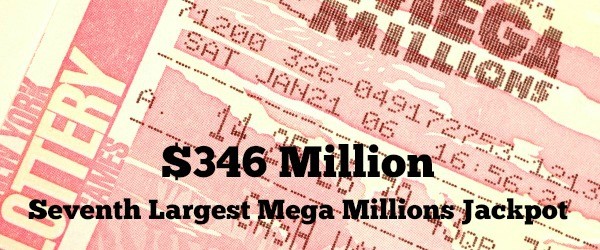 The Mega Millions jackpot was last won on April 28th. David Trapp purchased the winning ticket in California and claimed a $61 million prize.
Earlier this year, a player from Arkansas won a $177 million prize in the draw on March 31st and a player from California won a jackpot of $191 million on January 27th.
Seventh Largest Mega Millions Jackpot Ever
The Mega Millions lottery rewrote the history books when it awarded a jackpot prize of $656 million in March 2012. Three lucky players from Kansas, Illinois, and Maryland split that incredible prize. Mega Millions retained the title of having awarded the biggest lottery jackpot in the world for four years, until Powerball awarded a $1.58 billion jackpot in January 2016.
Mega Millions came close to breaking its own personal best on two occasions. In December 2013, the lottery awarded a $648 million prize. This was a mere $8 million less than the world record at the time. Last summer, Mega Millions fell short when it awarded a $536 million jackpot on July 8, 2016. That jackpot did, however, enter the record books. The massive prize was the highest cash value jackpot ever awarded to a single ticket.
So, what do you have to do to win the seventh largest Mega Millions jackpot? Buy your Mega Millions tickets and prepare yourself for a life-changing win. Luck could be on your side in the upcoming draw!
Related article: