Last Friday, 26 June was an historic day in the United States of America as marriage equality was legalised by the US Supreme Court. Parties and parades are being held all over the country this week to celebrate the Court's decision. While certainly not as historic, Mega Millions paraded closer toward another huge jackpot as yet another rollover occurred Friday night. The Mega Millions jackpot for 30 June is an impressive $74 million (AUD$96 million). 
The Pot of Gold at the End of the Rainbow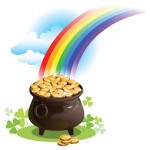 It was a lackluster night at the Mega Millions headquarters as no tickets matched the winning numbers. However, one ticket holder in Virginia did manage to match all five main numbers for the $1 million prize. Unfortunately they did not purchase the Megaplier along with their Mega Millions ticket — if they had, they would be celebrating a $5 million win.
Will this Tuesday bring us a new $74 million winner or will the jackpot keep growing and growing? Mega Millions is known around the world as the lottery with the largest jackpots on record and we have about $600 million more in rollovers to go before a new record is made. Could this even be the start of the first billion dollar pot of lottery gold? Anything's possible with a no-limit jackpot!
Freedom to Win
Don't live in the US? Doesn't matter! Aussies have the freedom to win the Mega Millions $74 million jackpot as much as a US citizen. Just buy your Mega Millions ticket online and the pot of gold could come to you!