Welcome to the third largest US Mega Millions prize in Mega Millions history! Just think: it could all be yours if you play your numbers right. This already historic Mega Millions jackpot reached an outstanding $449 million value after last Friday's 33rd consecutive rollover. The estimated cash jackpot equals an amount of $313 million. This is the biggest prize in the game since December 17, 2013, when two winning tickets shared a $648 million jackpot.
Mega Millions Largest Jackpots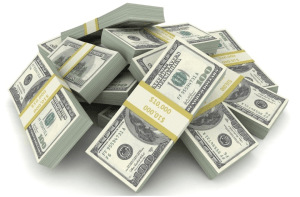 The first largest jackpot in Mega Millions history was for $656 million on March 30, 2012. The prize was split three ways among three players from Kansas, Illinois, and Maryland. The second largest jackpot in Mega Millions history was for $648 million on December 17, 2013. That prize was split between two winners from California and Georgia. The fourth largest jackpot in Mega Millions history was for $414 million on March 18, 2014. The prize was split between two parties, one from Florida and one from Maryland. The current jackpot made it into the top 3 biggest Mega Millions jackpots of all times, which leads us to pose the following, by now legitimate question: how far will this jackpot go? Will it go for the top 2, or maybe even a pole position? What does your gut feeling tell you?
How to Win the Third Largest US Mega Millions Prize
There is no surefire way to win this superb lottery prize, unfortunately. There are, however, some pointers you may want to keep in mind when playing your Mega Millions numbers in the upcoming draw on Tuesday, July 5th. These pointers will increase your chances of winning the third largest US Mega Millions prize – we can't get enough of that line as you may have noticed 😉
First of all, you can obtain more US Mega Millions lottery entries without spending more money by participating in a Mega Millions lottery syndicate. This is the easiest way to boost your odds and maximise your winning potential. Instead of buying a bunch of tickets yourself to raise your odds, you participate in a syndicate in which you and a lot of other players buy a whole bunch of tickets together! You don't have to (but you can, if you want to buy more shares in the syndicate) spend more money and your winning odds are significantly higher. You do have to share wins with the other participants, though. Interesting? Check out the US Mega Millions lottery syndicates available right now!
Do not miss a lottery win! Double and triple check your numbers. Could you even fathom winning a big jackpot and missing out on the money because you forgot to check your numbers thoroughly? This actually happens more often than you would think. There's a Mega Millions ticket out there somewhere worth $300,000 that has gone unclaimed, just to name an example. Many, many millions of dollars in lottery prizes go unclaimed every year. Don't let it happen to you!
Will this US Mega Millions Prize Become the 2nd Largest Jackpot?
Given the fact that no one has picked all of the correct winning numbers in the past 33 draws could be an indication that the Mega Millions jackpot will grow to be even larger. The next estimated jackpot could be hovering around the $500 million mark if no one cracks the current jackpot. So get out there and buy your Mega Millions lottery tickets online now!