Mega Millions, everyone's favorite American, lottery had another rollover this Tuesday, making it the 19th time in a row this jackpot wasn't won! Just in time for Halloween, the Mega Millions has grown into a spookily high amount: $284 million (AUD$ 322 million)! Will your ticket be the lucky one to get all the treats?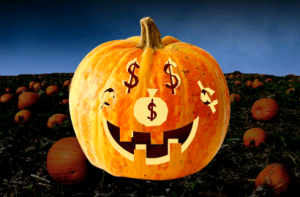 Halloween, always a night full of unexpected events, is coming up, and who knows what's going to happen? One thing is certain: the US Mega Millions lottery is having a draw for the highest jackpot prize it has had since the $414 million jackpot was won in March, earlier this year!
Mega Millions Winning Numbers
The numbers that came up in Tuesday's, October 28th draw were: 3, 50, 57, 58, 60 and Mega Ball 11. Those numbers brought luck to a single player from Missouri! No, he didn't hit the jackpot, but took an admirable second prize by matching the five main numbers. It's a shame that this player didn't use the Megaplier option, since that could have miraculously turn his $1 million into $5 million, since the drawn Megaplier number was 5! What a win, and what a miss at the same time!
Play US Mega Millions from Down Under! Why should US players have all the fun and win all the prizes when you can buy your Mega Millions tickets from anywhere in the world, right here on us-megamillions.com. We'd love to see an Ozzie Mega Millions winner in the near future!