It's a new week, and all of you still stand a chance to win some serious money (talk about an understatement) with Mega Millions' amazing jackpot that apparently does not want to stop rolling over! We are now past the $300 million mark – entering the 'big league', which means that each consecutive rollover will now give the jackpot an exceptional leap upward! Are you ready for this?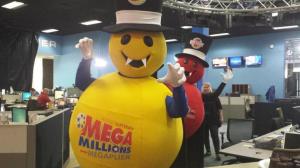 The last Mega Millions draw was held on Halloween, or Hallow's Eve, and despite the magical qualities attributed to that night, the jackpot wasn't won by anyone. The 20th rollover gave the already massive $284 million jackpot a $37 million boost, increasing it to $321 million, or AUD$ 365 million in Aussie currency. This is the 10th time the Mega Millions jackpot crossed the $300 million mark, and the jackpot is now worth almost half the jackpot record, which currently stands at $656 million!
Mega Millions last winner was a player from California who was the single person matching all winning numbers. The lucky lad didn't have to split the $180 with anyone else. Now imagine being the sole winner of almost twice as much! Wouldn't that be AMAZING? Buy a US Mega Millions ticket today and the next winner might just be you! And what's even better: you don't even have to live in the US top play! That's right: Aussies can play the US Mega Millions lottery – right from the comfort of their porch rocking chair. Or from any other place that has an internet signal, since you're playing online.
October 31 Mega Millions Winning Numbers
The winning numbers in the Mega Millions draw of last Friday, October 31st, were as follows: 11, 29, 36, 58, 67 and Mega Ball 15. Additionally, the Megaplier number 2 was drawn, doubling all secondary prizes for players that activated the fantastic Megaplier multiplying option. So, what happened? Well, five tickets matched the five main numbers but not the Mega Ball, which means each of those tickets won their owner $1 million. But, none of those winners used the Megaplier option! So all of them missed out on the fantastic opportunity to double up their new fortune!
Please, be sure not to repeat this rookie mistake when buying your Mega Millions ticket! Good luck this coming Tuesday!