On March 8th, 2016, one really lucky Mega Millions player hit it big in the American Mega Millions lottery by matching all five white balls and the additional Mega Ball raking in $157 million big ones! The jackpot hasn't been hit since then. That's two and a half months that the jackpot has been growing. In fact, for the first time this year the jackpot has soared to over $200 million for this Tuesday's upcoming draw. Hopefully, this is a sign of the times and an indication that Mega Millions jackpots will become bigger again. The highest jackpot in Mega Millions history was $656 million in March of 2012 – yes, that IS a while back. Surely, you can understand our excitement over this fabulous US Mega Millions top prize, just like we can fully grasp yours!
Everyone Can Win the US Mega Millions Top Prize
It'd be unwise, not to say crazy, not to get in on this Tuesday's windfall. Not just because of the current jackpot size, but also because there are steep secondary prize winnings for the taking as well. On March 11th, Ricky Rhinebolt matched the five main Mega Millions numbers (missing just the Mega Ball) which won him a second prize amount of no less than $5 million. Roberto Tripoldi almost didn't participate in the US Mega Millions lottery draw for April 16, 2016, because he really only plays for really high jackpots (the jackpot at the time was only about $20 million). His daughter convinced him to play anyway and now he is $1 million richer. You need to be part of this great American pastime and start reaping the potential benefits as countless others already have. Even just picking the correct Mega Ball gets you a prize. But who knows, your ticket could be worth a jackpot, too.
It's All About 'Playing the Game'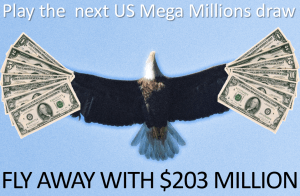 US Mega Millions isn't just about winning or losing; it's about playing the game. You can't take away the excitement of picking your numbers and wondering if they're going to hit. Your excitement soars as you've purchased your tickets and now you absolutely can't wait for the jackpot drawing so you can compare your numbers to the ones drawn. The Megaplier makes it even more exciting for those with secondary prize wins. For a little extra you can activate the Megaplier feature, which can multiply non-jackpot prizes and make them up to five times the size of the original prize amount. That's exactly how the aforementioned Ricky Rhinebolt won his $5 million prize: he was lucky enough a Megaplier 5 was drawn, which quintupled the original $1 million second prize amount to a fivefold.
Get In On the Action NOW!
Don't hesitate to get in on this $203 million jackpot! Get in while you can and purchase your Mega Millions tickets before the draw closes. Don't worry, the drawing time is only at 11:00 PM (Eastern Time) on Tuesday 24 May, so you still have plenty of time to think about your lucky numbers top play with. But don't wait too long, because the Mega Millions draws do not wait for anyone!