Your favorite American lottery just keeps on rolling over! When will some lucky player snatch the gigantic jackpot away from everyone else's hands? And, will we finally get to see the Mega Millions jackpot rise above the $200 million mark once again? It's been a while – such an occasion did not occur since the beginning of June! But fair's fair – it doesn't really matter, now does it? Because all of us know you are not going to wait playing Mega Millions until the jackpot reaches $200 million when you have a chance of winning $180 million! So stop fooling around, purchase a Mega Millions ticket online and join the upcoming Tuesday draw 'brawl'!
Breaking the World Jackpot Record – Realistic or Not?
Back in March 2012, the US Mega Millions was the world's first lottery to pass the jackpot value of half a billion US dollars when it awarded three ticket holders a combined sum of $656 million. Since then, the Mega Millions jackpot came close to matching the incredible world record amount on one occasion, when it two players shared the $648 million prize in December 2013. During the last two years, the jackpot didn't reach such amounts, but still offered an exciting $414 million prize in 2014 and a fantastic $265 million jackpot in January of this year.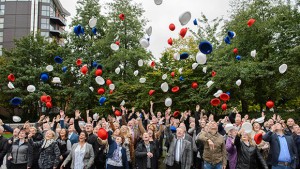 Although there might not be enough time left in 2015 for the Mega Millions lottery to reach an enormous, record-breaking jackpot, another lottery record was broken last month in England. The National Lottery hosted a massive gathering of 110 of its winners to celebrate the lottery's 21st anniversary. Over the years, the National Lottery has created about six new millionaires every week, adding up to a total of over 4,000 millionaires, good for a total value of around £11.5 billion!
While these figures are definitely exciting, the most exciting thing about the gathering was that two Guinness World Records were broken that day! For those who think winning the lottery isn't enough; the National Lottery winners broke the record for the 'largest gathering of lottery millionaires' and, while celebrating the event popped open more than 285 bottles of champagne, which granted them the 'longest champagne cork popping relay' record! Obviously, those winners don't know what real drinking is *wink*!
Mega Millions Previous Draw Results
Breaking records is great and exciting, but don't you think $180 million in your bank account will look great regardless of whether it's a record or not? One new millionaire walked away with the $1 million second prize after matching 5 of the 6 winning numbers: 10-31-35-50-72 and Mega Ball 8. This could happen to you too, the jackpot and giant secondary prizes are yours for the taking! Come play US Mega Millions NOW and break your own bank account record!