Last Friday was the fourth Mega Millions drawing since an Illinois player won the gigantic $270 million US Mega Millions jackpot – the jackpot in America's premier lottery rolled over once again to an astonishing $40 million! Make sure to play Tuesday's US Mega Millions draw and stand a chance to scoop up the amazing jackpot of $40 million for Australia!
The winning Mega Millions lottery numbers for Tuesday, January 27th, were 18, 31, 39, 45, 55 and the extra Mega Ball was 6. The number 5 Megaplier completed the results. The coveted jackpot rolled over once again, but the multi-state Mega Millions draw saw two ticket holders match 5 numbers, scooping up $1 million each. The winners purchased their tickets in New Jersey and Ohio.
Gun for Australia's glory and play Mega Millions through us-megamillions.com. With millions in prizes up for grabs twice a week, your chances are looking very good indeed. Buy a ticket for Tuesday's Mega Millions draw (taking place at 2:00 pm AEDT on Wednesday) and give your potential winnings a further boost by activating the Megaplier, which will multiply your secondary prizes 2x to 5x, depending on the drawn Megaplier number. Or even better: give your odds of winning the $40 million Mega Millions a massive boost and buy online lotto shares in a lottery syndicate for the mid-week draw. You have until 10:59 am AEDT on Wednesday to purchase your lines!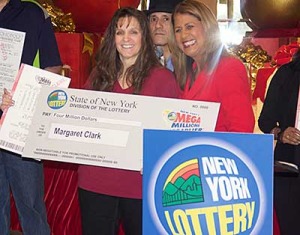 Wealthy Margaret Cannot Choose: Disney World or Hawaii?
The Mega Millions draw on November 4th of last year offered a massive $326 million jackpot and even though she 'rarely plays' the American super lotto, 46 year-old accounts assistant Margaret Clark couldn't resist buying a ticket at a self-service machine in her local supermarket. In fact, Margaret was so unfamiliar with the lotto that she unintentionally selected the optional Megaplier. When her newspaper published the winning numbers on the day following the draw, she couldn't believe her luck. Her second tier win of $1 million had been multiplied to a staggering $4 million!
Forever the accountant, a seemingly unruffled Clark told the gathered press that she would continue working, but that she and her husband 'might take a vacation' to either the Disney resort or Hawaii. What would you do with $4 million in your savings account?