A harsh debate took place last week. No, it wasn't over politics or the environment, it was a debate over rising tuition costs… at Hogwarts. Kevin O'Keefe at Mic calculated that yearly tuition at the School for Witchcraft and Wizardry would be over $43,000 (AUD$58,300). How did the Weasleys ever afford that sum? Well, rest assured, J.K. Rowling has confirmed that all Hogwarts tuition is free to students as it's paid for by the Ministry of Magic. Unfortunately Muggle life isn't as fair, so if you're trying to fund some not-so-magical projects, why not give Mega Millions a try?
$152 Million Jackpot — Wingardium Leviosa!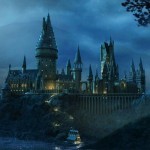 Another Mega Millions draw came and went with no jackpot winner. Last Friday night, the winning numbers — 6, 17, 30, 31, 41 and Mega Ball 15 — were met with crickets. Only one ticket holder in Florida managed to match the five main numbers for the second place prize of $1 million. Because of yet another rollover, next Tuesday's jackpot is now up to an astounding $152 million (AUD$206 million). We here at us-megamillions.com have tried to do the math and convert that sum into Galleons, but the Gringotts goblins are not cooperating. Saucy lads. While we can't get the true US dollar to Galleon figures, having the equivalent of $152 million in a vault would probably even make Draco Malfoy feel poor. So what are you waiting for? Buy a Mega Millions ticket for Tuesday's draw today!
Play Mega Millions Online – As Efficient as Owl Post
Not being able to buy a Mega Millions ticket in person is no reason to start crying like Moaning Myrtle. Want to do a magic trick? Just click the Play Now button on this site and you'll be able to play for the $152 million Mega Millions jackpot without leaving your home. You can even join a Mega Millions online syndicate and improve your odds of winning. No magic spells or US residency needed!