The thought of winning millions in the lottery, especially the $363 million jackpot in the Mega Millions lottery, is one of the most exciting thoughts we can imagine. Some people think they could never win the jackpot; that the jackpot belongs to someone else. This is so not true. You have as much of a chance of winning the $363 million jackpot as anyone else in the world. It's true. It could happen to you. So take our advice, get out there, and buy your US Mega Millions lottery tickets now!
You Really Could Be Winning Millions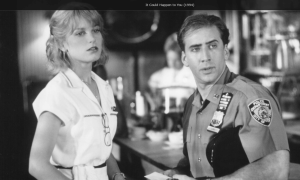 The thought of winning millions in the lottery also brings to mind the 1994 movie "It Could Happen to You", in which a New York City police officer (played by Nicolas Cage) doesn't have enough change for a tip for the waitress in the restaurant he frequents. He offers the waitress (played by Bridget Fonda) a share of the lottery ticket in lieu of a tip. Well, it happened to him. He won the lottery and now has to share it with Fonda, which he happily ends up doing.
Your Chances of Winning
When lotteries get up in the multi-millions, like this Friday's US Mega Millions,is destined to create a frenzy. The higher the jackpot, the more people buy tickets. That doesn't necessarily decrease your chances of winning. It's anyone's game. Many people think that they have a better chance of winning when fewer people play, but this is simply not true. Well, unless you are entering a raffle where a winning ticket is pulled from all of the entries. Also, the odds of the lottery's random numbers matching your ticket's numbers are not affected by the number of people with tickets. Think of it in another way: if only one person bought one ticket for the lottery, is that person guaranteed to win? Absolutely not! The smaller the number of people playing, however, the lower the odds of multiple winners sharing the jackpot. Which makes sense.
Share Winnings
It also goes without saying that the more tickets you purchase, the more chances you have of winning. But there are other tricks of the trade you can follow. For example, you can join a lottery pool or syndicate where you get a group together and buy tickets, but you have to be willing to share in this case. The payout you receive will be less, but your chances of winning are significantly higher. If Nicholas Cage can share his fortune with Bridget Fonda, then you can share yours with a syndicate. By the way, if it helps at all, Nicholas Cage's winning numbers were 06-12-16-26-64-08.
Now get out there and play, individually or in a US Mega Millions lottery syndicate, and remember it could happen to you just as easily as anyone else. Yes, winning millions for you is possible!