Alright, so there's no wizard of Mega Millions (unfortunately!), but the next Mega Millions draw is happening this Friday, 15 May on what would have been L. Frank Baum's 159th birthday. While it may be pure coincidence, we here at us-megamillions.com find it fitting that the 159th birthday of The Wonderful Wizard of Oz's author should be celebrated with a chance to win $159 million (AUD$196.1 million)!
Follow the Yellow Brick Road to Lottery Victory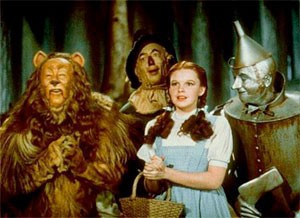 There hasn't been a Mega Millions jackpot winner since 24 March, for a total of 14 rollovers. From 27 March until now, the jackpot has jumped $144 million from the original $15 million starting jackpot to the current $159 million. Glinda the Good Witch would certainly approve of that magical transformation! Proving once again that Mega Millions is a lottery horse of a different colour, two millionaires were made with last night's draw despite the jackpot rolling over. One ticket holder in New York and one in Texas won $1 million each after matching the five main numbers. If they had gotten the Megaplier, the prize amount would have been multiplied to $5 million. The second-tier Mega Millions prize is larger than most other lotteries' jackpots.
There's No Place Like Oz
You don't have to wait for a tornado to come and sweep you off to Kansas just to buy a Mega Millions ticket! You can stay in your bathrobe and ruby red slippers, click your mouse three times, say there's no place like home, and buy a Mega Millions ticket online! Let's hope that Glinda is looking out for us and L. Frank Baum's 159th birthday is honoured by having a resident of Oz win $159 million!