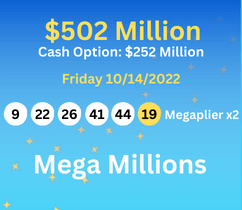 On October 14, 2022, two tickets sold in California and Florida featured all winning numbers for a jackpot that reached half a Billion dollars! The lucky winners of the (estimated) $502 Million jackpot will split the amount in two.
The Mega Millions winner from California purchased his winning ticket at a San Jose convenience store. The store, owned by the same family since 1897, sells around 800 to 900 lottery tickets every single day. Nonetheless, this is definitely the biggest win from one of their clients. The convenience store will also get a $1 Million bonus for selling the jackpot-winning ticket. However, the owner declared that she will share some of the bonus money with her community.
The other winning Mega Millions ticket was purchased at a 7-Eleven in Fort Myers, Florida; an area that was heavily hit by Hurricane Ian a month previously. The lucky owner became Florida's third Mega Millions jackpot winner! The retailer will receive a $100,000 bonus commission as well.
Overall, there were 1,054,198 winning tickets sold for that drawing only: strong sales in the closing hours before the drawing brought us this fascinating amount. Three tickets also brought the second prize to some players that matched all 5 main numbers but not the Mega Ball. One of these players, from Texas, had the inspiration to add the Mega Millions Megaplier to his ticket. This means he scooped $2 Million instead of $1 Million! The winning numbers of the drawing were: 09-22-26-41-44/19.
As both states do not allow lottery winners to remain anonymous, we will probably learn more about these lucky players when they will come forward to claim their Mega Millions prize.