Curious to see how much you can win by playing Mega Millions syndicates? Let us tell you about the top 5 syndicate winners. They played the lottery together and it made them millionaires. These are their amazing stories:

1. Unnamed California Syndicate – $543 Million
11 co-workers from a finance company in Santa Clara, California became the biggest syndicate winners in Mega Millions history when they scooped a huge $543 million on July 24th, 2018. When they heard about the big jackpot coming up in the Mega Millions, they decided to make an office pool. "It was spur of the moment", said Ronald Reyes, one of the members who claimed the prize on behalf of the syndicate.
"Hey, did you hear about the jackpot? We should play." That turned out to be the best decision they ever took because it made them overnight millionaires. "If I could win, anybody could win. We're just normal people!", said Mr. Reyes. So play Mega Millions online and maybe you can beat their record!
2. The Albany Seven – $319 Million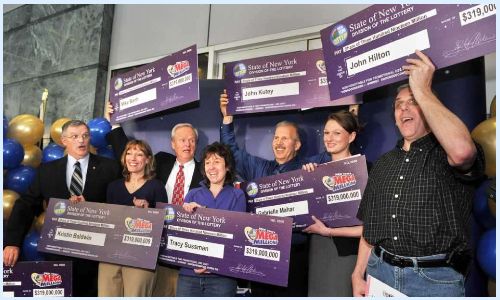 In March 2011, 7 co-workers from Albany, New York split a $319 million jackpot. The co-workers had formed a syndicate of only 1 share, with each person taking a turn buying the share before each draw. The jackpot then climbed above $100 million! While they didn't have the huge odds boost that syndicates are known for, apparently, 1 line was all they needed! Each member of the Mega Millions syndicate collected $28,971,029.
3. The Three Amigos – $218 Million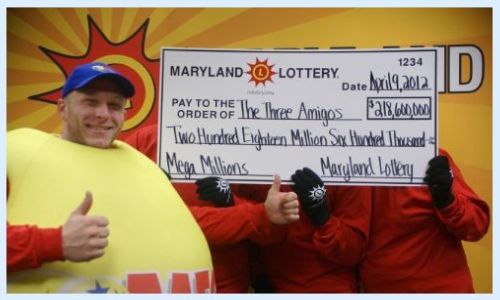 The Three Amigos syndicate is legendary for taking part of a record-breaking, at the time, $656 million Mega Millions jackpot in 2012. The Three Amigos were 3 employees of the Maryland public school system who decided to play Mega Millions with $60 worth of tickets, with each member contributing $20. Their decision to create a Mega Millions syndicate certainly paid off as their share of the jackpot was $218.6 million! Not bad for $60 worth of tickets!
4. The Manhattan Syndicate – $58 Million
On March 24th, 2015, 16 co-workers from the Ophthotech Corporation, a New York biotech company won a whopping $58 million in the Mega Millions lottery. Their lotto office pool was running since 2010 and they would purchase their tickets from a shop in their building.
After the draw on March 24th, they checked the Mega Millions results and they couldn't believe their eyes. They kept going "from one person's computer to another's checking each person's scan of the ticket". They had all the numbers, every time. They chose the lump sum payout for their Mega Millions prize and they each cashed in $1.65 million, after taxes.
5. The Awesome Eight – $1 Million
The Awesome Eight had an awesome $1 million Mega Millions second prize win in June 2015. The Awesome Eight was a group of 8 Virginia office workers who had been playing the lottery together for about 2 and a half years at the time of their incredible win. In the beginning, they called themselves the 'Lucky Six' and grew to become the 'Awesome Eight.' Each member of the group took home $125,000! Certainly beats working for a living!