You probably don't need to be convinced to play Mega Millions, the American lottery currently offering an incredible $262 million jackpot prize. In fact, you may be on your way to purchase your Mega Millions tickets at this very moment. But, if you're hesitating, wondering if this is the lottery to play, we're here for you. We've listed the top seven reasons to play Mega Millions and wish you the best of luck when you do!
Biggest Jackpot in the world! The Mega Millions jackpot, currently at $262 million, is the biggest lottery prize in the world. If you're playing the lottery with hopes that Lady Luck will come your way, why shouldn't she come when you can win a jackpot of near epic proportions?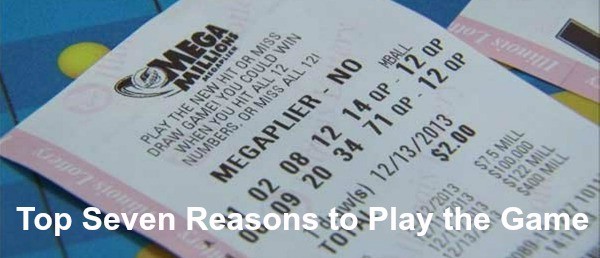 Bigger than Powerball. The two multi-state American lotteries always seem to be in direct competition with each other. Which one will offer the biggest jackpot prize – Powerball or Mega Millions? This rivalry has been going on for a few years. In March 2012, Mega Millions shocked the world when it awarded a $656 million jackpot to three lucky winners. That world record stood intact for nearly four years until Powerball awarded a $1.58 billion jackpot in January 2016. At this moment, the Mega Millions jackpot is larger than the Powerball jackpot. Will Powerball catch up?
Biggest Mega Millions jackpot this year. The Mega Millions jackpot was last won on April 28, when David Trapp from California won a $61 million prize. Two other jackpots were awarded earlier this year. Jack Freney from California won a $191 million prize and Eliberto Cantu from Texas won $177 million after he purchased a ticket in Arkansas. The current Mega Millions jackpot is the biggest in 2017 so far.
These Top Seven Reasons Should Convince You
Could end up being a record jackpot. The Mega Millions still has quite a ways to go before it starts setting new lottery records, but who knows when it will stop rolling over. Already, the Mega Millions offers its sixth largest jackpot in the past five years, and its 18th largest in the 15 years of the game. The jackpot could fall in the coming draw, but, it could continue to grow even bigger.
You could win $1 million (or more). Even if you fall short of winning the Mega Millions jackpot you could end up becoming a millionaire in the next draw! Play the game and you could win a Match 5 prize worth $1 million. Your prize will be even higher if you include the Megaplier option when you buy your tickets. In 2017 so far, Mega Millions has awarded 67 winners with second division prizes of $1 million or more. You could be next!
Your Life Will Change!
Winning the Mega Millions jackpot would be life-changing. Can you imagine it? Probably not because how could you even begin to imagine winning a humongous amount of money such as the current Mega Millions jackpot of $262 million? Even after you deduct taxes, and even if you take a lower lump-sum cash payment, that huge amount of cash would enable you to make all your wildest dreams come true. And then some!
If you don't play, you can't win. Well, this goes without saying. You can sit back and watch the next Mega Millions draw. You can wonder what you would do if you had played the game and won the jackpot. Or, you can follow the advice of these top seven reasons and purchase your Mega Millions tickets right now for a chance to win the biggest lottery prize in the world. Good luck!
See also: